Snow Park Outdoor Amphitheater at Deer Valley Resort | Park City, Utah
Mexican flamenco-metal guitar duo Rodrigo y Gabriela will be performing at Snow Park Outdoor Amphitheater on Saturday 27th July 2019! The breathtakingly talented and utterly unique two-piece are touring to promote their recent album Mettavolution, which has stormed the Top Ten of four US albums charts! This thrilling and captivating pair are known for their second-to-none live shows, which showcase their virtuoso skill, modern spin on classical guitar and almost psychic musical connection – an absolute treat to behold!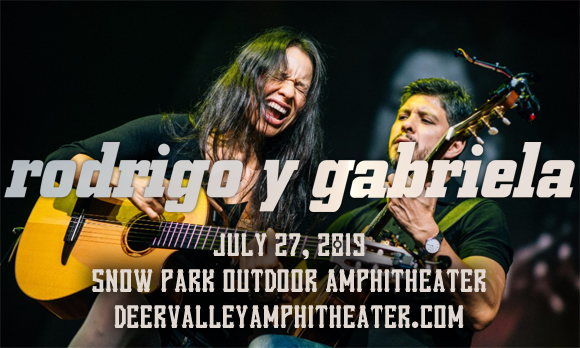 Mexican classical guitar duo Rodrigo y Gabriela first began performing together as a duo in Galway, Ireland around the turn of the millennium. Rodrigo Sánchez and Gabriela Quintero, who were romantically linked until 2012, travelled around Europe together before settling in Ireland, where they recorded their self-titled debut album, released in 2006. The album went to the top of the Irish Albums Chart and earned them an an appearance on Late Show with David Letterman, which brought their music to a wider audience. The duo has released three live albums, one EP and six studio albums since their career began – their most recent being Mettavolution (2019).