Snow Park Outdoor Amphitheater at Deer Valley Resort | Park City, Utah
Pop-rock and country singer Sheryl Crow's tour bus will come cruising down winding roads leading to major venues in key cities and states as she embarks on a nationwide tour. A bonafide superstar who has a collection of Grammy wins and an amazing discography of numerous chart-topping hits from 11 studio albums that sold over 50 million units worldwide, Sheryl Crow is every inch at the top of her game. And here's one that could truly make her fans happy — Sheryl Crow is popping in for a one-night-only show at the Snow Park Outdoor Amphitheater on Sunday 5th September 2021. Then all you gotta do to have some fun is round up your friends and family and book tickets to see Sheryl Crow. Click the 'Get Link' tickets now!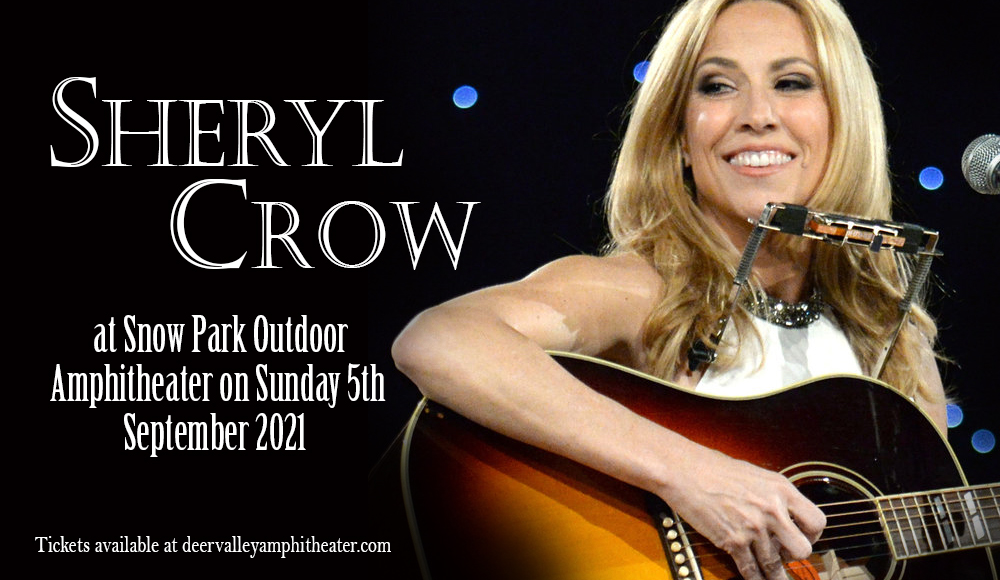 "All I Wanna Do" (1994), "Strong Enough" (1994), "If It Makes You Happy" (1996), "Everyday Is a Winding Road" (1996), "Tomorrow Never Dies" (1997) (the theme song for the James Bond film of the same name), "My Favorite Mistake" (1998), "Picture" (2002) (duet with Kid Rock) and "Soak Up the Sun" (2002). As you are reading these song titles, you're definitely hearing the songs in your head, right? Sheryl Crow's penchant for writing the most infectious, recognizable, and timeless tunes is truly astonishing. And if you listen to them closely and try to split them up according to the genre, is close to impossible. Crow can masterfully synthesize elements of pop, country, jazz, rock, and blues, and create a universal sound appealing to a crossover audience.
Sheryl Crow's resume from early years in the music biz include jobs as a music teacher, and writing commercial jingles for the likes of McDonald's and Toyota. Then she mounted the concert stage and toured with Michael Jackson as a backing vocalist during his Bad tour 1987–1989, and often performed with Jackson on "I Just Can't Stop Loving You". Her backing vocals could also be heard on studio albums of Stevie Wonder, Belinda Carlisle, Jimmy Buffett, and Don Henley.
Sheryl Crow's first album, "Tuesday Night Music Club" recorded with a group of friends in 1993 was the turning point of her career. She not only found her voice singing in the forefront but the lead single "All I Wanna Do", zoomed to number two on the US Billboard chart and catapulted the album to mainstream success. With an illustrious career spanning three decades, Crow has sold more than 50 million albums worldwide and won nine Grammy Awards (out of 32 nominations).
This is an all-killer, no-filler concert, guaranteed to get the crowd on their feet from beginning to end. Don't miss out on all the fun. Book your tickets now!