Snow Park Outdoor Amphitheater at Deer Valley Resort | Park City, Utah
Ambient, globally-influenced dance duo Thievery Corporation will be performing at Snow Park Outdoor Amphitheater on Friday 23rd August 2019 as part of their Babylon Falling Tour! The groove-led duo, who first started making their name in the late-1990s, are joined by a vast and eclectic array of talented and energetic musicians on stage, making their live shows a truly captivating experience! They will be performing a full headlining set of fan favorites and tracks from their most recent album, Tresures From the Temple (2018)!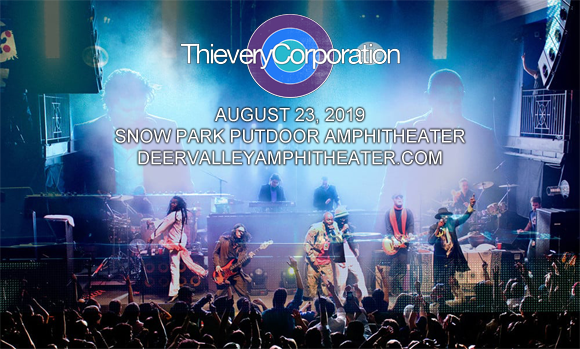 Rob Garza and Eric Hilton are Thievery Corporation – an electronic music duo that formed in Washington, D.C. In 1995. Mixing downtempo club beats with a myriad of genres, including dub, jazz and world music, the duo draws from an eclectic range of influences and has produced songs with lyrics in English, Spanish, French, Italian, Persian, Portuguese, Romanian and Hindi over the years. Since their 1996 debut, Thievery Hi-Fi, the duo has collaborated with a variety of guest vocalists, including Emilíana Torrini, Pam Bricker, Perry Farrell, David Byrne, and Wayne Coyne of The Flaming Lips. Thievery Corporation's tenth and most recent album, Treasures From the Temple, was released in 2018.