Snow Park Outdoor Amphitheater at Deer Valley Resort
Living on 'lavender days, the acclaimed folk band rooted in Ohio, CAAMP, is kicking off a big year of live music as they gear up for their 2023 Tour. Set to perform at multi-night gigs, festivals, and amphitheater concerts, the band is looking forward to serving its biggest hits, fan favorites, and new music live on stage. The tour includes a special stop at Snow Park Outdoor Amphitheater on Sunday, 16th of July 2023. Following up on a string of successful shows last 2022, CAAMP is gearing up for bigger surprises in a new year of live music. Don't miss out as they bring the feeling of 'lavender days to the big stage by booking your tickets now!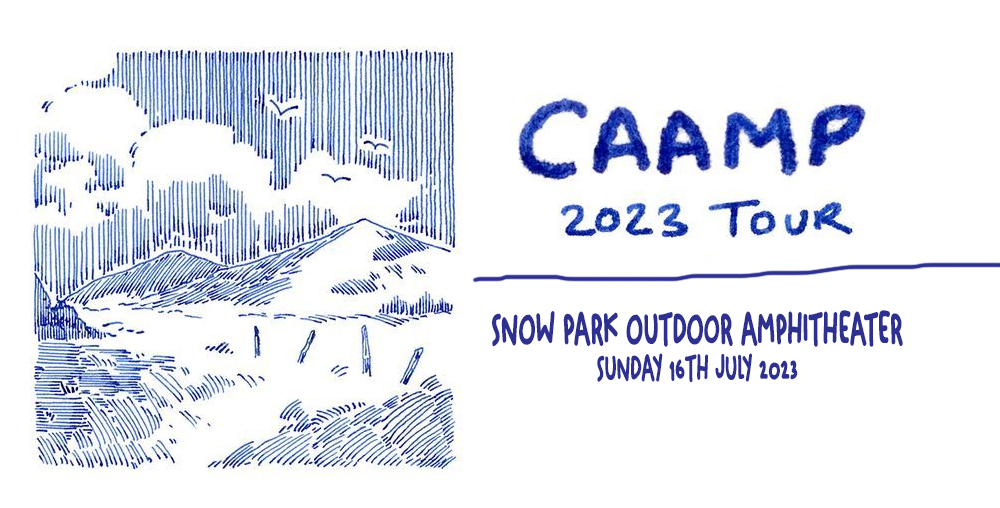 Following a massive year for CAAMP as they released their fifth studio album and a roster of successful shows, the band is gearing up to launch another year of massive tours this 2023, kicking off this May. With multi-night shows, festival appearances, and amphitheater concerts lined up, the band is set to offer an exciting summer to all of its fans.
"Lavender Days" came out last 2022, it's the band's new album that explores a time of "small pleasures and forgotten disappointments", taking listeners back to a feeling of nostalgia. The record features its introspective and alluring folk tracks – "Come With Me Now", "Lavender Girl", and "Believe".
Talking about the inspiration behind the name of their new album, Taylor Meier shares "It's nostalgic. It can remind you of your grandmother's perfume or maybe the air freshener in your mom's car,". As the album features songs that never fail to share a feeling of nostalgia, with fans expressing the undeniable reliability it brings, "It can summon up all of these incredible memories and transport you to those in-between days, which I think everybody remembers with more clarity than the big events." Meier added.
What started out as a project between friends Taylor Meier and Evan Westfall who met at a summer camp, the duo evolved into a band as they added bassist Matt Vinson and Joseph Kavalec on keyboards. From a self-released debut album recorded in a remote cabin, the band skyrocketed to success after its debut record, followed by their sophomore album "Boys" was met with critical acclaim.
Since then, the band has toured extensively, including festival performances at the likes of Lollapalooza, Bonnaro, and the Newport Folk Festival. CAAMP's biggest hits and fan-favorite tracks include "Vagabond", "Peach Fuzz", "By and By", "Officer of Love", and "Believe".
With music described as "nostalgic and soulful" by NPR, the band never fails to bring a unique blend of folk matched with stripped-down production, honest lyrics, and raw vocals that create a nostalgic dream. They've been compared by critics to the likes of folk legends Bob Dylan and Wood Guthrie.
As the band sets another year of bringing the feeling of 'lavender days to the live stage, make sure to save your spots at the show by booking those tickets now!